I was recently asked my my good friend Craig Lloyd to contribute to his blog
refuse2quit.com
along with the other guys in our running crew. My first post was a recap of my peak bagging exploits in 2012 and you can check it out here
116 in 2012
. Even though I'll post about some of the bigger adventures on Refuse2quit I'll still continue to post here about my training.
December was a challenging month for me. I had to deal with my nagging sores on my heels and left ankle from our snow climb of Grandeur on November 13th. The sores were open and oozing for a few weeks and then it took a good month after that for them to really start to heal. The one just below my right ankle was the worst because it would rub on my shoe if I ran on anything remotely technical, so I had to stay on easy trails for most of the month.
Even with the injury I still got out a lot and had some excellent mountain runs. Lake Mountain and the Ave Twins became weekly runs and I also did the Grandeur loop a couple of times as well. Here are a few short reports from a few of the more memorable runs in December:
Grandeur Loop 12/8/12:
This is one of my favorite loop runs in the Wasatch and it didn't disappoint. Met the fellas at 6:00 at the Grandeur West Ridge trailhead. It wasn't as cold as we thought it would be and we settled into a slower than normal pace up the steep WR. About 3/4 of the way up Craig and I put a bit of distance on the other guys and we hit the summit in a slow 1:14 which was still an hour faster than the last time in the deep snow. It was cold on top and we waited for 5 minutes for MattW and about 10 more for the other guys. Craig and I froze our tails off and resorted to some snuggling.
From there we ran down Church Fork to the Pipeline. The trail conditions were really good. At Rattlesnake Gulch we checked for the Millcreek Flasher (darn no luck) and then took Bambi hill up another few hundred feet and then dropped back down to the steep trail that would take us back to the WR trail. I took a dive at one point, but landed in a pile of dry leaves. No damage done. It was an incredible morning with really good friends.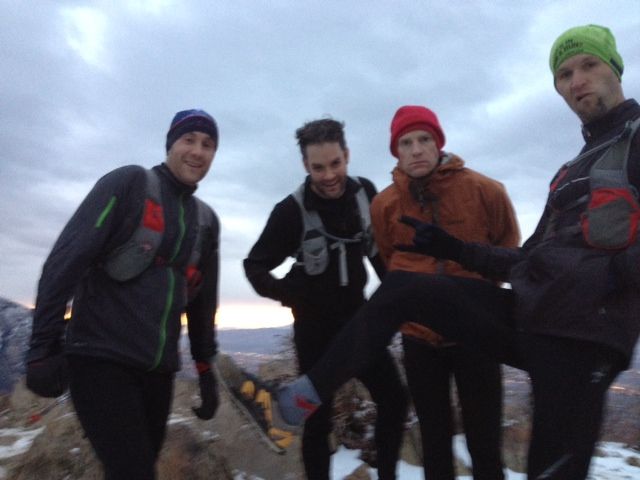 MattW, AaronW, MattV and Craig on Grandeur
Lake Mountain 12/26/12:
I woke up to snow this morning. It was coming down hard and I was meeting some of the Wasatch Mountain Wranglers aka FLUFFERS at the American Fork park n ride to climb Lake Mountain. By time everyone made it there and we were driving to the mountain the roads were a mess and the snow only got worse, but I told Craig that the worst thing that could happen is we end up running and playing in the snow for a few hours. Hitting the summit was in questions, but I knew we would give it a good try.
It was pretty much a slog the whole way. There were 6 of us that took turns breaking the trail, but at about the half way point it was me and MattW (mostly Matt) breaking the trail in the shin to knee deep snow. We saw a few deer on the way and at one point there was a pretty big buck that started running down the road right at us full speed. Matt and I stopped and after about 5 seconds in put on the breaks when he saw us, slid a few feet and then quickly turned around and went back up the road. Awesome.
Me and Matt getting abused by the wind
Craig joined us the last mile and the 3 of us pushed it pretty good to the top. It was now blowing really hard and I was wishing I had my windstopper hat and gloves, but we pushed it on up to the top where it was blowing and cold. We snapped a few pics, took a frozen gel and waited for Aaron and Mindy to hit the top. After a few more pics we got the heck out of there.
The run down was fun in the snow and a few hundred feet below the summit we ran into 3 guys on snowmobiles that were shocked to see us. They called us crazy and gave all of us high fives. Pretty much awesome. The rest of the run was a little tough in the deep snow and I didn't really ever get into a great groove, but it was still a total blast. Summit #114 for the year and it was a good one.
On the summit of Lake Mountain #114